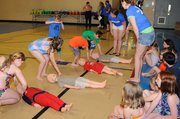 continued — For every child under the age of 15 who dies from drowning in a pool there are another 10 who have received emergency care for non-fatal submersion injuries, according to the CDC. Also, non-fatal drowning can lead to brain damage resulting in long-term disabilities such as memory problems, learning disabilities and permanent loss of basic functions.
Kids are also taught during the Splash program how to call 911 and what CPR is.
The YMCA also offers the Reach Out For Youth Scholarship Program, which allows families who can't afford to pay for swim lessons to attend programs. Hardcastle said the reason "I can't afford swim lessons" isn't an excuse to not learn swimming skills.
"We're committed to helping save the lives of children and adults by providing as many opportunities as possible for everyone to learn basic swimming and water safety," President of the Capital District YMCA David Brown said in a statement.
The YMCA also recently partnered with the Schenectady City School District to reopen the high school pool to the community, with free lessons also offered there.
Out of a group of 76 fourth- to fifth-grade Schenectady students, Hardcastle said there were only six kids who knew how to swim.
"I think swimming is kind of like reading or writing … you need to know how to do it," she said.
For information on the Capital District YMCA and programs offered, visit cdymca.org or call your local branch.
Vote on this Story by clicking on the Icon