continued — After temperature, he said the second factor in many decisions is if any chlorine taste is present. Municipalities are required to chlorinate tap water for disinfection purposes.
"Sometimes you get a little chlorine taste in there and that is a turn off to a lot of tasters," he said.
Rebecca Stashower, of Niskayuna, didn't choose either of the winners as her top pick, but she said it was a close call.
"It tasted the freshest … there wasn't a major difference between the five," Stashower said. "They were all cold."
Stashower said she regularly drinks tap water through her refrigerator's filter.
Syles McClinton, a 9-year-old from Schenectady, possibly has grown accustomed to his hometown's water taste, because he chose the city's sample as his favorite.
"I guess it tasted normal," McClinton said.
Officials didn't identify the identity of samples beyond the top two voter getters.
Johan Matthews, 21, also lives in Schenectady, but didn't end up selecting city water for first or second. He chose sample "A" as first and "E" as second. He said the middle three left an aftertaste for him.
"To me they were the most fresh ones," Matthews said. "The middle three to me left like a sour taste, which are probably chemicals are something."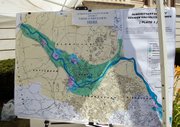 Conversely, Kristi Rock, of Rotterdam, said she choose "B" as her favorite because it didn't leave an aftertaste.
"One thing I drink a lot of is water," Rock said.
She said Rotterdam has hard water, but she uses a filtration system. She said every month she takes her showerhead off and soaks it to remove the hard water buildup.
All of the water comes from the Great Flats Aquifer, but where each municipality sources its water could account for some difference.
Schenectady and Rotterdam's well fields are neighboring each other, which could account for the rivalry and similarity in taste. The two well fields are also sourced "fairly close" to the Mohawk River and receive some recharge from the river, Pelton said.
Scotia's well field is more distant from the Mohawk and he said it receives nearly no recharge from the river. Glenville's well field is the most upstream in the aquifer system and receives some recharge from the river.
Niskayuna's water is sourced outside of the "main body" of the aquifer, Pelton said, and is adjacent to the Mohawk. The other four well fields are fairly close to one another.
Vote on this Story by clicking on the Icon