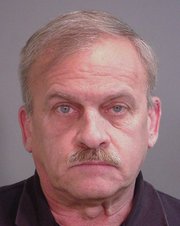 ROTTERDAM — A complaint filed with police over repair work performed at a Rotterdam body shop resulted in the arrest of an employee following a month-long investigation.
Police arrested Joseph P. Colarossi, 63, of Schenectady, and charged him with grand larceny in the fourth degree, a felony.
The charges stemmed from a complaint received by law enforcement officials that repairs performed at AC Body Works, located on Guilderland Avenue in Rotterdam, were inconsistent with the initial estimate and work order, according to police. The resulting unsatisfactory repairs, totaling over $1,000, were not previously agreed upon, according to police.
The investigation was conducted by the state Department of Financial Services and the State Police.
Colarossi, accompanied by his attorney, turned himself in to State Police and was issued an appearance ticket for Thursday, March 8, at Rotterdam Town Court.
Anyone who recently had repair work completed at AC Body Works or by Colarossi himself and experienced a similar situation is being asked to contact the Princetown State Police Bureau of Criminal Investigation at 630-1712.
Vote on this Story by clicking on the Icon