NISKAYUNA — The Niskayuna Co-op Supermarket is planning to spruce up its store through a round of renovations that should be completed just in time for its 69th anniversary.
Donald Bisgrove, general manager for Niskayuna Co-op, said the store really hasn't had any improvements since 2003 when a complete renovation of the store was done. The estimated cost to complete all the improvements is $200,000, which is hoped to start in April and be complete by the following spring. All the improvements are planned to be done at night or during off hours, so regular store hours would remain.
"In retailing you need to keep your stuff up to date," Bisgrove said, "things change in eight years and things get tired and old looking."
The flooring is the biggest issue at the market, he said, because of original work done in 1947. Now, he said the foundation for the floor is a little uneven. Outside of his office there were two different samples of flooring in place that employees were actively testing as they walked up and down the stairs. Also, he said the store is looking at new signage inside the store with new wall decor and some new lighting.
"We are not going to get real elaborate because everything basically is new," he said.
The store is also looking at changing its register stands where customers check out, even though the current ones were purchased eight years ago. Bisgrove said the stands they're eyeing are shorter and take up less space.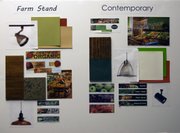 The style of new store isn't going to have a contemporary appearance, but will include some "farm stand" styled elements. Bisgrove said it would help "perk the place up" with a new look alongside the wood paneled flooring.
The new ShopRite located across the street didn't spur the changes, said Bisgrove.
(Continued on Next Page)
Prev Next
Vote on this Story by clicking on the Icon