Former Selkirk Fire Department treasurer and volunteer firefighter Howard Shafer has filed an appeal in Albany County Court after he was ousted from the company in November.
Shafer, a Selkirk resident and former Albany County legislator, was charged with insubordination, violation of the department's code of conduct and going outside the chain of command before the department's Board of Commissioners and a hearing officer.
In the appeal, Shafer's lawyer argues his client was deprived of a fair hearing, most of the charges do not appear to be misconduct and the expulsion was not supported by substantial evidence.
"The charges are so minor or so petty it's amazing," said Shafer's attorney, Lawrence Schaefer.
Shafer was the subject of a disciplinary hearing before the department's Board of Fire Commissioners in September.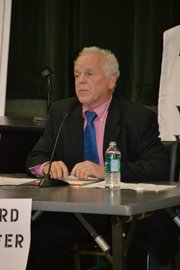 Selkirk Fire Department Co. 1 Chief Josh Therrien accused Shafer of refusing to follow the orders of superiors and of failing to turn over department equipment and records after he was taken off of active duty because of an injury.
The appeal argues Shafer, an 11-year veteran of the department, was in good standing with the department and upon beginning his job as treasurer, quickly found issues and problems with the record keeping from past treasurers. According to the court documents, Therrien said Shafer immediately "did a pretty good job assessing what was wrong," and all treasury materials were returned when Shafer was asked to leave.
The appeal states Shafer was not given a fair and impartial trial in accordance with the fire district's bylaws because Joe Keller, the past chairman of the departments Board of Commissioners, is the father-in-law of the hearing officer, and that relationship created a conflict of interest.
Shafer's attorney said the majority of the charges against his client were not misconduct issues. He referenced charges like using all capital letters in department emails, "pestering" Therrien for the mail and raising issues with salting of the parking lots. Shafer asserts the capitalizations were to emphasize certain statements in emails. He also needed the mail to pay bills on time and wanted to make the parking lot safe for pedestrians, he said.
(Continued on Next Page)
Prev Next
Vote on this Story by clicking on the Icon