CAPITAL DISTRICT — Avery Daggett is only 8 years old, but she's already walked the runway.
"It's fun. … I like it when they all are paying attention to you. I like most all of the dresses," said Avery.
Avery will dress up as one of her favorite American Girl dolls for the second year in a row at the American Girl Fashion Show Friday and Saturday, March 9 and 10. Hosted by the Junior League of Albany, the show has raised money for an organization or cause for more than 15 years running.
"It's a great experience for young girls to come to with their moms, grandmothers and we have a lot of multigenerational guests that attend together. It's a fun bonding event for that," said Carolyn Daggett, Avery's mother and Junior League president.
American Girl dolls are the perfect platform to push the Junior League mission or motto, which is "women building better communities," said Barbara Beauchamp, vice president of communications for the league.
"The American Girl, their whole theme really is about education and it's a very wholesome, positive story. Every doll comes with a book so it encourages reading, and appreciation of history," said Beauchamp.
Each fashion show has a theme based on the doll of the year. McKenna is the 2012 doll and is a fourth-grade gymnast with a learning disability, so the show's theme is literacy and raises money for Dolly Parton's Imagination Library, which promotes early childhood literacy.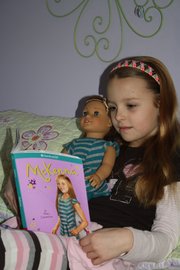 "We're doing a literacy project and the doll is a literacy-oriented doll," said Beauchamp.
The Junior League of Albany has been enrolling children in Dolly's Imagination Library since 1998. The program provides children from birth through age 5 with a new, age-appropriate book in the mail each month, free of charge.
Girls can apply to model in the fashion show starting on Black Friday. Appearance doesn't factor into the selection process, which helps preserve the meaning of the show.
(Continued on Next Page)
Prev Next
Vote on this Story by clicking on the Icon