Headlines on the 2012 presidential election are already in focus, but a Scotia man's book revisits the iconic and erroneous 1948 Chicago Daily Tribune headline, "DEWEY DEFEATS TRUMAN."
Author David Pietrusza is looking back at how Harry Truman's unlikely upset can change public perception on modern history.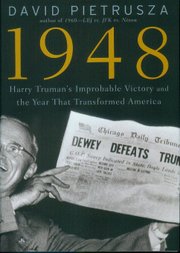 Award-winning author Pietrusza, 62, will speak at the Mabee Farm Historic Site's George E. Franchere Education Center on Sunday, March 18, at 3 p.m., about his book "1948: Harry Truman's Improbable Victory and the Year that Transformed America." Theprogram features Pietrusza sharing some of the backstage events resulting in Truman's victory, which are detailed in his book published last October.
The event is also the first in a speaker series partnership between the Schenectady County Historical Society and Schenectady County Public Library.
Karen Bradley, reference and adult programming librarian for the County Library, said Pietrusza has extensive knowledge on presidential election history.
"He really has just a wide, varied background on things related to our presidents," Bradley said. "I think this would have fairly broad appeal, particularly this year when we are in an election year."
Bradley said many people probably remember the iconic photo of Truman holding up the earlier misprinted edition of the Tribune, which is the book's cover, but Pietrusza can tell "the true story" behind it.
"It is a very interesting juncture in our history where the post-war world starts to take shape," Pietrusza said. "You are also looking back a lot to see how things are going to shape up after the New Deal."
Researching and writing about presidential elections has long interested Pietrusza.
"I guess I started this as a kid really. There were fewer presidential elections to cover then, but I was always fascinated," he said. "The elections are the great milestones on how they get in. … They encapsulate these moments in time and they have the conflict and drama."
(Continued on Next Page)
Prev Next
Vote on this Story by clicking on the Icon