VOORHEESVILLE — A Voorheesville man has been arrested by the Albany County Sheriff's Office for using his repair business to gain access to the home of residents and steal their possessions.
Andrew Myers, 54, of 49A N. Main Street was charged with grand larceny and criminal possession of stolen property, both felonies, according to police. He was also charged with two counts of petit larceny and possession of marijuana.
Police said Myers is self-employed and has been using his business "Handy Andy Home Improvements" as a way to "legitimately" gain access to the home of residents. When left unsupervised upon entry he would steal property and later pawn it for cash, said police
Myers was remanded to the Albany County Correctional facility without bail.
Anyone who may have employed Myers or used Handy Andy Home Improvements and thinks possessions may have been stolen is asked to call the Albany County Sheriff's Tip Line at 655-7860.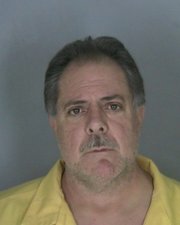 Vote on this Story by clicking on the Icon