CAPITAL DISTRICT — A breakdown of state, federal and local gas taxes could be your reading material next time you fill up, if Albany County Comptroller Michael Conners gets his way.
Conners held a press conference at the Stewart's on Broadway in Menands on Thursday, March 8, to highlight three efforts he said would combat rising gas prices.
"Have the state legislature have pricing transparency at the pump. I'm not asking to have wholesale prices, that'd be asking too much. All I want to see happen is to have federal, state and local taxes there," said Conners. "If you know what you're paying in taxes on a gallon of gas, you're far more likely to call your assemblyperson and senator to do something about it."
There are about 67 cents worth of taxes included in a $4 gallon of gas sold in New York.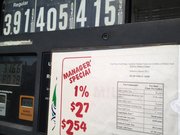 Shawn Morse, chairman of the Albany County legislature, said price transparency was broached at the county level a couple years ago, but it's really the state legislature that can make it happen.
"I plan on writing a letter to the state legislature asking them to look at allowing transparency at every gas station," said Morse.
Morse said it's helpful for drivers to know where their money goes so they can ask the right questions.
"When they're looking at the price of gasoline, is gas hurting us because taxes are too high, because somebody's gouging us at the pumps? Is it because millionaire speculators are waging millions of dollars back and forth on what the price of gas would be? Transparency would be good for people," said Morse.
Posting the tax breakdown won't necessarily halt the spike in price, though, said Morse.
"I don't know if it will change the price of gas. I don't know if it will have any effect at all on the price but it certainly will allow you to know where to direct your questions," said Morse.
(Continued on Next Page)
Prev Next
Vote on this Story by clicking on the Icon