CAPITAL DISTRICT — When Gino DiCarlo was young, the street in front of his house in Schenectady was torn up. With each chunk of concrete that was ripped away, a portion of trolley track was revealed.
"I was just a kid and I started going to the library and looking up any information about trolleys," said DiCarlo.
Now, he's a published author on his favorite topic – his book "Trolleys of the Capital District" was published in 2009 – and he'll talk about all things trolleys at the William K. Sanford Library in Colonie on Sunday, March 11, at 2 p.m., hosted by the Historical Society of the Town of Colonie.
"I'll have some books for sale, will have a slideshow and a movie of the local trolley lines I hope to show," said DiCarlo.
Trolleys might not seem too dynamic — they disappeared from the Capital District in 1946 — but they actually shaped an important part of local and national history, said DiCarlo.
"Albany and Schenectady had two of the biggest trolley lines in the world. In Schenectady, the longest trolley bridge in the world crossed the Mohawk River near Rexford," said DiCarlo.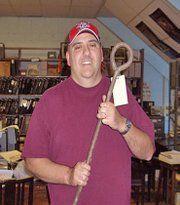 The first trolley line popped up in the area in 1890, around the time when it was the favored mode of transportation across the country and was basically a railroad car pulled by a horse. The trolleys that more frequently come to mind, clacking along railroad-esque tracks, were invented right here.
"It was really the General Electric technology that invented sending power along the lines long distances. The convertors of the power it takes to run a trolley car were all invented by GE, so the Schenectady railway was created so they could test their products they sold around the country," said DiCarlo, adding that Thomas Edison was one of the railway's first passengers. "Watervliet had one of the biggest trolley builders at the time and made cars for all over the country and the world."
(Continued on Next Page)
Prev Next
Vote on this Story by clicking on the Icon