continued — Van Hattum said raising money and educating people about the disease are important in their own way.
"People don't understand the disease and that's my whole goal now to make them understand," said Van Hattum. "It's a mother's love for her child. Life expectancy is 37 and that's just too young for me."
Van Hattum spends her days giving CJ nebulizer treatments, adding salt to his drinks and feeding him Vitamin D, a multivitamin and enzymes. She makes monthly trips to the doctor.
"This has just become a typical, every day thing," said Van Hattum.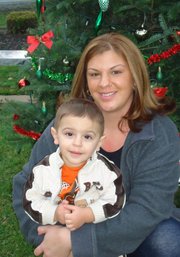 Like many 2-year-olds, CJ is a picky eater, but with CF he can't afford to be.
"He's not a big fan of eating and with CF you really have to force them to eat, he has to have the calories, has to have the enzymes," said Van Hattum. "He's extra picky and still eating baby food and Pediasure for extra calories."
For the most part, though, CJ leads the life of a normal baby.
"He doesn't know enough to let the disease take over but he's just this energetic little spitball. He doesn't stop going," said Van Hattum. "He's hitting all his milestones like he should be."
In two years, Van Hattum has raised about $19,000 for The Cystic Fibrosis Foundation and since this January, has already raised about $1,000. She said there is constant progress made on the research front, which gives her hope and the drive to keep going.
"Within the past few months they have found a drug that's almost like a cure for 4 percent of the population that has CF. There's so many different mutations of the gene," said Van Hattum. "We keep crossing our fingers and hoping if we keep up with this, maybe his gene will be the next one they concentrate on and find a cure."
Vote on this Story by clicking on the Icon