The Capital Region Maritime Center could get the break it needs if a nonprofit organization looking to expand its programming decides to put roots there.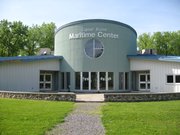 The Fast Break Fund, based in Cohoes, is looking into leasing out Maritime Center, which hasn't had a tenant since BOCES left the center at the end of June 2011. Anthony Hynes, vice president of Fast Break Fund, has led the effort of evaluating the 10,000-square-foot facility. The center's waterfront opportunities aren't what grabbed Hynes' attention, but rather the woodworking potential.
"We are going to be doing woodworking and … basically occupational training for people with special needs," Hynes said. "It was already set up for that previously, so that is one advantage."
"A lot of the kids that run through our program are from Schenectady County, so location wise it is pretty desirable," he added.
The group also serves Albany, Saratoga and Rensselaer counties along with other Capital District areas. Between its two programs, special needs and underprivileged, Hynes said around 400 to 600 kids are active in the program each year.
Hynes founded the organization with his brother, Lawrence, in 1995 with the primary goal of providing athletic opportunities through sports camps for lower income children. It expanded to offering sports camps for special needs children and has an array of woodworking classes.
Many children in the program joined when they were young, around 8 years old, and now many are older. Hynes said the center would provide job training opportunities for members from 15 to 25 years old.
"A lot of the kids that have run through our program over the years are getting older and they need occupational training opportunities," he said, "so we are sort of just addressing the needs of our constituents."
He said it would be an additional program for the group and he is even thinking ahead toward housing opportunities. The group produces Adirondack chairs, clocks, breadboxes and wine boxes.
(Continued on Next Page)
Prev Next
Vote on this Story by clicking on the Icon