"Their needs are changing and we have been working with them for many years and we want to continue on that path," he said.
While providing vocational training, he said it could also provide funds for the group by selling the items produced. Fast Break primarily relies on donations.
"When you are relying on charitable contributions, those sources … can go up and down depending on the economy and a variety of other reason," Hynes said, "but if you have some products to sell, particularly products that have some enduring value, hopefully that will be a more consistent funding source."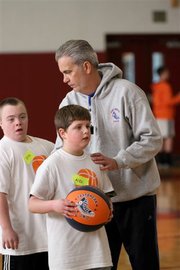 He said the programming Fast Break offers is important because there's a need for it in area communities. Around 90 percent of people with developmental disabilities under the age of 35 still live at home, he said, which is largely due to a lack of job opportunities.
Plans to move into the facility aren't set in stone, though.
"We are currently talking with the (Fast Break Fund Board of Directors) and the Maritime Center to come up with a situation that works for everybody," Hynes said. "I think eventually we will be successful."
Maritime Center President Chester Watson didn't have quite as optimistic a tone when discussing the deal.
"It is hard to figure out what you are negotiating if the other party is not really talking to you," Watson said. "I think that we are continuing to miss each other in communication, so we are continuing to attempt to establish those communication links so we can in fact discuss."
Watson said on Monday, March 5, he hadn't yet "spoken directly" with someone from the Fast Break Fund.
He added the center has also talked to the Lake Champlain Maritime Museum, which is a nonprofit focused on preserving and sharing the history of Lake Champlain. Watson said the center is trying to get additional information about its longboat-building program.
Vote on this Story by clicking on the Icon