NISKAYUNA — After 40 years in existence, one nonprofit environmental group is hoping to continue its growth in a new home.
For more than four years, ECOS: The Environmental Clearing House has eyed the former Niskayuna Grange Hall No. 1542. The Niskayuna Town Board at its Tuesday, Feb. 28, meeting advanced the longstanding effort by voting to seek bids to renovate the historic Grange Hall.
"We've gotten it moving and I am thrilled to be voting yes," Councilwoman Denise Murphy McGraw said before voting.
ECOS currently rents a small office space from the town at the Niskayuna Community Center, but the new location would greatly expand its footprint and is ideally located near nature sites.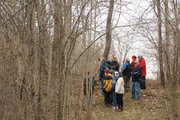 Patrick Clear, executive director of ECOS, said moving to the Grange Hall would place it right at the entrance of the Lisha Kill Preserve. Also, two schools, Iroquois Middle School and Rosendale Elementary, would also be nearby so educators would be within walking distance of the facility.
"It is really almost an ideal spot," Clear said. "Being at the Grange has a lot of benefits to it."
Former town supervisor Luke Smith had first approached ECOS about possibly reusing the building, said Clear, which led the organization to eagerly seek funds to help the town with renovations.
"It is has been a long process, but the town went through the process of getting the state and federal historic designation for the building and then applying for grants to go for some of the work on it," Clear said.
Historic building is reborn
The Grange Hall, which was originally the Rosendale Common School until shutting its doors around 1920, was placed on the National Register of Historic Places late in the summer of 2010. This designation allowed the town to apply to certain national programs to facilitate improvements.
(Continued on Next Page)
Prev Next
Vote on this Story by clicking on the Icon