Key location for programs, growth
continued — Clear is the only full-time staff member of ECOS right now and the current office is set up to accommodate three people with two workstations. Volunteers help out with office work, too.
ECOS does nature walks around the property, but having the well-maintained trails next to the Grange at Lisha Kill would provide a more ideal opportunity for programming.
"There is enough diversity in there with the Lisha Kill stream running through it and the woodland," Clear said.
He added other nearby nature locations, such as town parks and the Mohawk River State Park, are within a short walk.
ECOS was founded in 1972 and branched out from serving town residents as an informational hotline for environment-related questions to serving seven counties throughout the Capital District with educational programming.
"We have a lot of people interested in the environment," Clear said. "We have a lot of people that have moved to other communities around. They still have that interest … we want to be able to provide programs and activities to our members in the community."
He said the group "fills a good niche" and the group focuses on disseminating environmental information. Part of its mission is to help promote all of the environmental groups throughout the Capital District in addition to its own programming.
"It is not just our program. We help promote the programs of all the other groups as well," Clear said. "It has really helped us expand out to be a greater Capital Region-type group."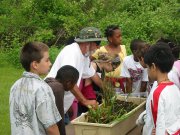 He said the group now does more outreach to schools than several years ago and it also hosts conferences on environmental topics.
Although ECOS goes to schools throughout the region, Clear said it prefers to do its teaching outside of the classroom. If supplies need to be purchased, it asks schools to help provide donations to help fund the purchases. Retired teachers run many of the programs taught at schools.
Vote on this Story by clicking on the Icon