VOORHEESVILLE — One local organization has found a way to turn the unique, stylized work of local artists into functional pieces for the home, all while raising money for the education of local students.
For the first year, the Voorheesville Dollars for Scholars program will host "Sittin' Pretty: Seat for Scholars," an auction of benches decorated by local artists to benefit a series of scholarships presented to Voorheesville High School seniors. The auction will be a part of the group's annual chocolate and wine pairing event.
"We had originally wanted to do the fundraiser using chairs, but when we saw the benches we thought they could be incorporated more easily into people's homes," said event coordinator Karen Finnessey.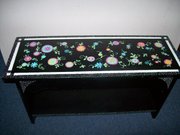 The fundraiser is similar to the one that produced the large painted Saratoga racehorses that can be found throughout the Spa City. The cost of each bench was sponsored by a local business owner, but the twist is those who bid on the benches will be able to keep them. All of the proceeds will then go toward the scholarships presented to seniors at the end of the year.
There are a total of 12 benches. Each is painted by a different artist with a design of their own creation.
"You can really see how much time has been put into (each bench)," said Linda Pasquali, who is also helping plan the event. "I think they are very proud of their work."
Diane Wozniak, a local watercolor artist who is known for her scenes of Voorheesville, helped recruit her artistically-talented friends to join the project. Other contributors include Annie Brill, Judy Douglas, Dory Joy, Cathy Laccetti, Denise Mason, Gail Michalak, Laura Morrill, Alison Swanson, Deborah Van Zink and Patrick Von Dell.
Students from the high school's Portrait Prep class designed the last bench.
(Continued on Next Page)
Prev Next
Vote on this Story by clicking on the Icon