continued — "We left it to the artist to do what they want with it," said Pasquali. "You can see the artist's style come out in each one and when they are lined up next to each other, you really realize how unique they are."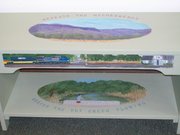 The Voorheesville Dollars for Scholars program awards 15 or more $750 scholarships each year.
According to Finnessey, each student must apply to win and is scored blindly using a point system so those evaluating the application do not know the name of the student. Good grades, community service and school involvement earn students extra points, as does volunteering to participate in Dollars for Scholars fundraising events.
"This is a nice opportunity for kids to get a nice sized scholarship," she said. "It could be used to buy books. I think these awards are of a more significant amount than others presented at the end of the year."
The bench auction, which will be hosted by Voorheesville Elementary School Principal Thomas Reardon, will take the place of the silent auction usually held during the group's annual chocolate and wine pairing event. The price ($12 in advance, $15 at the door), includes unlimited trips to the dessert buffet and wine pairings. Student pianists Rebecca Barron and Erin Gannon will provide live music.
There will be a minimum bid of $75 per bench. The benches can be viewed before the event at local businesses throughout Voorheesville.
"This is a great and fun way to support the continuing education of our students," said Finnessey.
Vote on this Story by clicking on the Icon