continued — "I could function generally, but it depended how intense the episodes were," he said, "sometimes the episodes would be so intense that I was extremely irritable and then you wouldn't want to deal with me."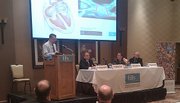 After a week trying the new medication, Joy talked to him about the newly offered procedure.
Since the Dec. 19 procedure he said he hasn't had any real episodes, which is one less thing he has to worry about since it could happen at any time. The longer he doesn't have an episode, the more likely long-term relief will be realized.
The only medication he is on now is a blood thinner, which is planned to be short term.
"I'd like to say I am drug free, but I am still on a blood thinner as a precautionary thing," he said. "I feel good — I feel better."
His resting heart rate now falls within the normal range, at 70 to 80 beats per minute. Before the procedure, his heart rate was kept artificially low at about 50 to 60 beats per minute.
"It is kind of a nice thing," he said.
Good candidates for the procedure are patients with more persistent a-fib or have other conditions, such as abnormally large hearts, that might not achieve the same benefits from catheter-only based procedure. There also have been few minimally invasive treatment options for these patients previously, which also involved longer recoveries and increased risks.
"Any time you have something that can improve the patients' life, lifestyle, make them feel better and get them out of the medical risks of stroking and needing medications … it is a win for everybody," Reich said.
To learn more about the hybrid surgical-catheter procedure for chronic atrial fibrillation, call Ellis at 243-3610.
Vote on this Story by clicking on the Icon