SCOTIA — First National Bank of Scotia Senior Vice President Bob Dieterich is hoping to bounce Paul Tonko from Congress like a bad check.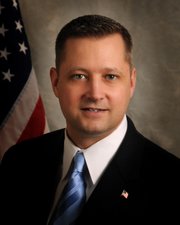 Dieterich, R-Glenville, announced his candidacy for the 21st Congressional District on Wednesday, March 7, at Glen Sanders Mansion in Scotia, to a crowd of family and friends. Under a proposed congressional redistricting map he would be running in the newly formed 20th District, which includes Schenectady and Albany counties and portions of Montgomery, Saratoga and Rensselaer counties. The new district lines have been said to make the district more Democratic and less favorable to Republicans.
Dieterich, chief financial officer of First National Bank of Scotia, was recognized by the Capital District Business Review as the2011 CFO of the year for the under $20 million business category. He has worked at the bank for over 18 years.
He completed a decade of service in the 109th Airlift Wing of New York Air National Guard in 2008. Through his service he earned an array of military awards, such as the Air Force Outstanding Unit Award, Air Reserve Forces Meritorious Service Medal and Humanitarian Service Medal.
He chastised Congress for not working together and on fiscal policy.
"Too many American families right here in our district are suffering the consequences of irresponsible federal fiscal policy, reckless spending and snowballing government debt," Dieterich said in a prepared statement. "Yet, when we look to Washington, the place that should be the epitome of American ingenuity and innovation, we instead see a Congress unable or unwilling to transcend the toxic partisan culture and produce real solutions."
James Buhrmaster, chairman of the Schenectady County Republican Committee, expressed support for Dieterich's bid. The county GOP has endorsed Dieterich.
"He is an extremely conservative person," Buhrmaster said. "He is really tired of increasing the size of government and spending money we don't have."
(Continued on Next Page)
Prev Next
Vote on this Story by clicking on the Icon