continued — Jocelyn wrote the book, 25 pages of quirky rhymes told from an 8-year-old's voice, in 30 minutes.
"I was graduating college and got this book 'All the Places You'll Go' by Dr. Seuss and really liked how it was fun and poetic and something that could reach people who were of any age," said Jocelyn.
Enlisting her sister to draw the pictures was a no-brainer.
"It was really obvious that (Jessica) was going to be the one who illustrated it," said Jocelyn. "She's very talented."
Jessica said she loves the way her bright, bold and colorful images mirror her sister's words.
"I really like the book and how it came out," said Jessica. "A lot of the literature is targeted toward older people. … We didn't really have a lot of books when we were kids that helped my sister explain what autism is."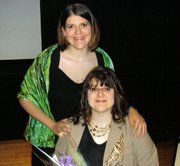 Creating a picture book that explained autism in a straightforward, kid-friendly way was important to the twins and a resource they both wish they'd had growing up.
"We thought it was a pretty good idea to see if we could make a book that could help younger kids, especially family members, understand what autism was," said Jessica.
For the most impact, "There Will Always Be Love" had to be written together as twins.
"There's a lot of books written by family members about autistic people … but there aren't a lot of books written together," said Jessica.
Jocelyn said showcasing Jessica's art in the book sends an equally powerful message.
"There's a lot of misinformation and fear about autism as something that is negative and something you don't want your children to have and Jessica's illustration of the book demonstrates that there's so much talent in the autism community," said Jocelyn. "It's not something to be feared, it's something to be educated about, it's a way of life to be embraced."
Vote on this Story by clicking on the Icon