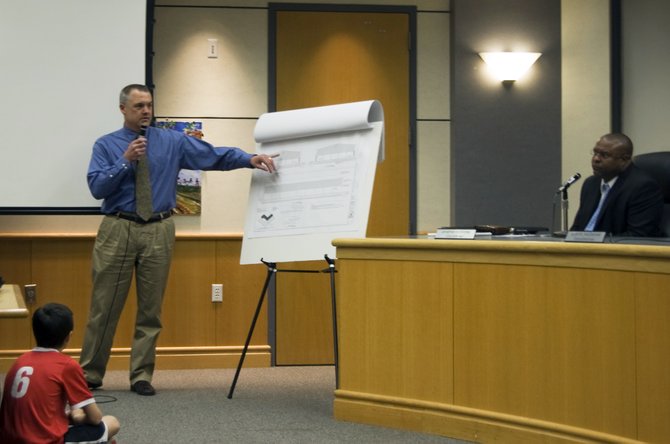 continued — Annual debt service is estimated at approximately $24,000 annually, but McDonnell expects the facility to pay for itself within a few years.
"The bonding is really a financing mechanism," McDonnell said. "We can bond at a rate that is lower than any mortgage they can get. They can't mortgage on town property."
The estimated operating expenses for the facility total $31,000, which includes $6,000 for electricity, $10,500 for heating, $1,000 for parking lot snow plowing, $3,000 for maintenance costs, $10,000 for staffing and $1,000 for garbage service and water.
Annual facility revenue was estimated at nearly $57,500. The revenue assumptions include rental from November to mid April, or 22 weeks, with billable hours from Monday to Friday from 4 p.m. to 10 p.m. and from 8 a.m. to 10 p.m. on the weekends. The rental rate is pegged at $75 per hour, which is below rates at private facilities, which run about $200 per hour. McDonnell used a 60 percent occupancy rate in her figures.
After cutting annual operating expenses and debt service from revenue projections, McDonnell said the facility would generate $2,420 in revenue.
"We think we are projecting conservatively based on staffed review and talking to our bidders," McDonnell said.
Resident Aaron Hull asked the board to reconsider funding the project and questioned what the board would do if revenue projections fell short.
"What if your projections are wrong? Who will pay the bills?" asked Hull. "Whether the bills are paid from the park fund or the operating fund the residents of this town will end up paying the bills if your projections are not met. That a is risk I don't think we should be taking now, or ever in the future."
McKinney contested the annual operating expenses, saying industry experts he spoke to said they would be more like $100,000 per year. Also, he said there would be an expense of around $50,000 to replace the facility's turf, which lasts around 10 years. He also said there are no estimates for air-conditioning expenses included in the figures.
Vote on this Story by clicking on the Icon