continued — John Garver, geology professor at Union College, also talked about changing flood patterns and what is causing them.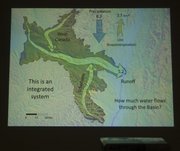 The Mohawk Watershed is an integrated system, so Garver said what happens in Schoharie affects what happens locally. He said there was a considerable amount of excess rainfall in the Catskill Mountains.
"This is an integrated system that we need to worry about," he said.
During Irene, he said nearly one cubic kilometer of water came through the region, which is equal how much water the region sees throughout an entire year.
"This was a big, big event," he said.
He suggested the hydrology of the basin could be changing, which would change the frequency and magnitude of flooding. He said there has been a drastic increase in "big events" throughout the region relating to flooding.
The number of declared disasters per county statewide has increased greatly over the last six to seven years, too.
He also said infrastructure throughout the state isn't ready for the change in water levels and increased flooding.
"It is fairly clear that after Irene and Lee … there is a number critical pieces of our infrastructure that are not ready for an increased amount of water going through the Mohawk Watershed," he said.
Vote on this Story by clicking on the Icon