continued — Sixth grader Brandon Gunn is getting to work alongside his brother, Christian, who is a high school senior.
The spring show will mark the first time 12-year-old Brandon is in a school production, while 17-year-old Christian will appear in his last school performance after years of being active in the theater group.
"It is a lot of fun especially since it is my last show and his first," Christian Gunn said. "I've just always loved music and love acting."
Christian is playing Horton the Elephant, who the story is centered around, and his younger brother is playing the smart and imaginative child Jojo. Throughout the musical, Jojo keeps getting into trouble for his "thinking."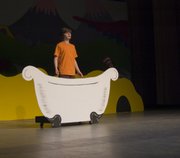 Sixth-grader Nathaniel Finke, also playing Jojo, said, "Even though (Jojo) gets punished sometimes, he always uses his imagination." Finke said he thought the role was "kind of just right" for him to play.
The cat in the infamous red-and-white striped top hat is being played by senior Michael Perkins, which is a different part from his typical role as the "bad guy" in the a performance.
"I like how much energy my character has … I am very excited to play the happy character," Perkins said.
Portraying The Cat in the Hat also brings up nostalgic feelings for Perkins.
"I can just remember when I was little and getting the book read to me at bedtime," he said.
There will be a 7 p.m. performance held each night from Thursday, March 29, to Saturday, March 31, and an afternoon performance at 2 p.m. on Sunday, April 1. Tickets will be available at the door before each performance. Pre-sale opportunities have now concluded.
Vote on this Story by clicking on the Icon