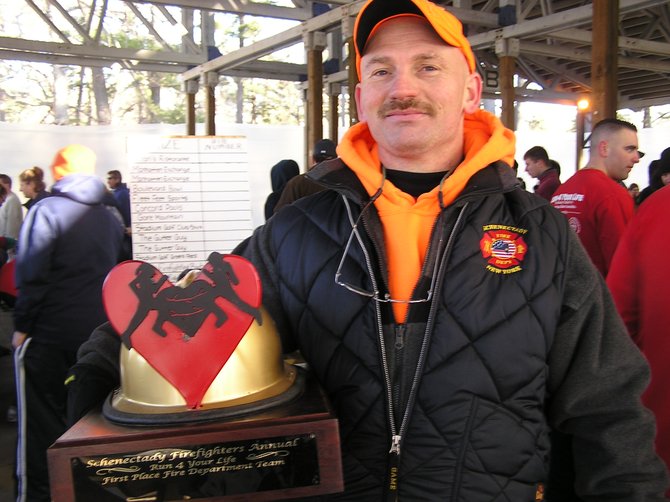 continued — He also hopes to change the culture and standards at fire departments to implement for stringent physical fitness standards. Many departments only require a firefighter to pass a physical from their doctor.
"I think my overall mission would be to try and get other fire departments to implement more of a physical standard for active members and not just new hires," he said. "Once there is a tragedy then everybody jumps on the bandwagon or is up in arms."
It is also more common for older firefighters to be hired since age requirements have been lifted. He said the highest risk for a heart attack is also in middle-age adults.
"You come on the job, maybe you are 25 to 30 years old, and you may be in a lot better shape, but what happens when you get in your 40s and 50s," he said.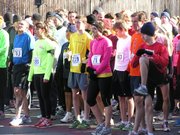 Around seven other fire departments throughout the Capital District participate in the event, but he said the majority of runners aren't firefighters.
Awards will be given for the top three overall, age divisions, male and female runners, team entry and retired firefighter. Teams from the area fire departments compete for the specially made Fireman's Trophy, which the winning department holds on to for a year and brings to the following year's race.
"It is basically a helmet we customized and hand made a trophy. It emits a flame that is driven by a propane cylinder in the base of it," he said. "That was kind of just a work in progress that developed to what we have now. That is up for grabs for any other fire department that can beat our time."
There is still time to register for the race, because runners can register the day of race. For information on the race visit www.schenectadyfireirefightersrun4yourlife.com.
Run 4 Your Life is organized and hosted by the Health and Safety Committee of IAFF Local 28 and the Schenectady Permanent Firemen's Association. The title sponsor is the Martin, Harding and Mazzotti Law firm, among many other business donating to the event.
Vote on this Story by clicking on the Icon