MALTA — A new generation of athletes are discovering rugby.
The Capital District Youth Rugby League is in its fifth year of operation, and clubs such as the Malta-based Saratoga Mustangs and the Scotia-based Schenectady Chargers are introducing the sport to high school-age athletes, both boys and girls.
"A bunch of my friends were playing, and I thought it would be interesting," said Race Viedt, a Burnt Hills-Ballston Lake High School junior who is a team captain for the Saratoga Mustangs. "I've stuck with it ever since."
"Personally, I like the aggressive side of it," said BH-BL student Emma Duck, who is in her third season playing for the Mustangs' girls team. "Chicks don't get many opportunities to be physical (in a sport)."
CDYRL president Rob Sliwinski – who also coaches the Schenectady Chargers and the Rensselaer Dragons – said the league has taken off.
"The league started in 2007 with teams in Saratoga and Albany," said Sliwinski. "In 2008, we added Schenectady. And then in 2009 we added teams in Rensselaer, Kingston, the southern tier with Binghamton and Berkshire."
Photo Gallery
Saratoga Mustangs rugby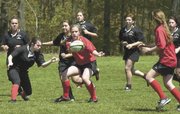 These pictures were taken during the April 29 Capital District Youth Rugby League boys and girls games between Saratoga and Kingston at Shenentaha Creek Park in Malta.
Today, the CDYRL has eight boys and five girls teams competing against each other during a two month regular season. The league has an end-of-season tournament in mid May, with the boys and girls champions advancing to the state tournament during Memorial Day weekend.
The Saratoga Mustangs have been one of the area's top youth rugby clubs. Its girls team has won the last three CDYRL tournament titles, and its boys team is among the best in the state.
More than half the current Mustangs have played two or more seasons, which allows the coaches to teach more of the sport's intricacies such as how to win a scrum and how to force turnovers.
"It doesn't happen overnight," said Mustangs boys coach Steve Ristau, a native Australian who has been working with the Saratoga team for three seasons. "The good thing is that the guys are all veterans, so we don't have to go over all the basics."
(Continued on Next Page)
Prev Next
Vote on this Story by clicking on the Icon