BETHLEHEM — Mike Engle didn't eat a meal in a diner until he was in his 20s, but once he was brought to a "greasy spoon" he was instantly fascinated by the food and architecture of the down-to-earth eateries.
"It's kind of funny, we didn't go out to eat much when I was young and I'd never been to a diner. Then someone brought me to one and it just clicked," said Engle of his first diner experience at the Miss Johnstown Diner.
Now 38, Engle has spent years visiting, eating at and researching diners. His first book, "Diners of New York," was published in 2006 with co-author Mario Monti. In January he released his second book called "Diners of the Capital District."
"When I was writing 'Diners of New York,' I noticed we weren't giving enough attention to the individual diners," said the Rensselaer resident. "I wanted to focus on what made them unique, especially in the Capital District."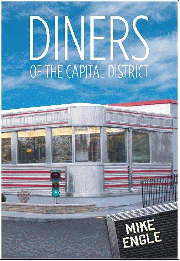 The new book contains information on 48 diners, nearly all of them located in the Greater Capital District from Johnstown to Watervliet. Each entry contains photos, diner history with architecture information and a short review of the establishment.
Each section also includes an area to obtain the autograph of each diner's waitress or owner. Unfortunately, some of the diners in the book's pages are now closed, such as the infamous Miss Albany Diner, so collecting signatures for every establishment would not be possible.
Engle said he became attracted to diners because they provide a different experience than going to a chain restaurant. He said a local diner is like going to the heart of a neighborhood.
"You can get the sense of the community, the sense of the architecture, even the sense of the owner with their kick knacks… people take that for granted," he said.
(Continued on Next Page)
Prev Next
Vote on this Story by clicking on the Icon