BETHLEHEM — With the hum of heavy construction equipment in the background, students from schools across the Greater Capital District watched in admiration as skilled tradespeople and professional operators demonstrated their industry knowledge at the 11th annual Capital District Construction Career Days.
Held at the Laborers Training Facility in Glenmont over two days, nearly 1,200 students participated in the event meant to provide high schoolers with additional career options as they are about to graduate. Staring on Wednesday, April 25, the local event is just one of many similar construction days happening throughout the country.
"The event works both ways to provide work for future graduates and recruit workers to local businesses," said Brendan Manning, co-chairman of the Capital District Construction Career Days for the past four years. "It's more about career opportunities as compared to job opportunities."
The event itself started about 15 years ago in Texas, according to Manning. The Federal Highway Division, which funds federal highway projects throughout the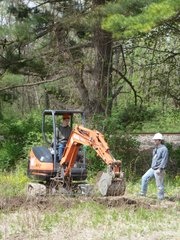 country, worked with the local New York State division to try to put a similar event together locally. They started off small in the Capital District and expanded around the state. There are now seven different sites around New York holding construction career events, usually on different weekends so some of the same organizers can participate.
Members from local construction companies, trade unions, apprenticeship programs and colleges were on hand to provide students with information to learn what requirements were needed to break into different fields in the construction industry. Manning said most fields require at least a G.E.D. to enter their programs with additional training either provided on the job or at a trade school. Some work requires special licenses or permits to work heavy equipment.
Manning said the event is meant to give students an idea of what the construction industry is all about.
(Continued on Next Page)
Prev Next
Vote on this Story by clicking on the Icon