GLENVILLE — Two of the three newly acquired aircraft of the Empire State Aerosciences Museum in Glenville took an unlikely trip to reach their destination on Monday, April 30.
Photo Gallery
ESAM acquires three historic aircraft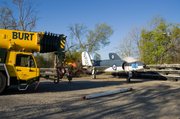 The Empire State Aerosciences Museum (ESAM) in Glenville acquired three historic aircraft from the deck of the Intrepid Sea, Air & Space Museum in New York City. On Monday, April 30, two of those aircraft traveled down the streets to the Museum.
As most people were sleeping, at around 1 a.m., on April 30, the aircrafts steadily cruised out onto the streets of Schenectady before crossing Freemans Bridge into their new hometown of Glenville. The three planes were moved onto a barge in New York City on Wednesday, April 18, and arrived at the Port of Albany on Sunday, April 22. The planes were moved off the Intrepid Sea, Air & Space Museum to make room for the space shuttle Enterprise.
The three aircraft acquired by ESAM include a Supermarine Scimitar, F-3D-2 Douglas Skynight and a MIG-15. The aircraft were docked across from the Waters Edge Lighthouse Restaurant & Inn in Glenville before being moved by a crane to an open lot across from the ALCO Heritage Museum.
ESAM board member Kevin Millington spoke about the acquisition at the Waterford Harbor Visitor Center on Saturday, April 28, as the planes kicked off the Erie Canal season.
"This day is really … about heritage," Millington said. "These great historic aircraft are about to be transited to the Empire State Aerosciences Museum … and they are being transported here in the most legendary waterway in the state."
Millington said the acquisition and transportation was an example of "effective state government" working in partnership with the community.
The Scimitar is a twin-engine, single-seat strike fighter used by Great Britain and was introduced into combat in 1957. The plane could travel a maximum speed of 736 mph and had four 30mm cannons with the capacity to hold 4,000 air-to-ground ordinances. Only 76 Scimitars were manufactured and there are only three remaining. Only one, now at the ESAM, is in the United States, with the remaining two in the United Kingdom.
(Continued on Next Page)
Prev Next
Vote on this Story by clicking on the Icon