CAPITAL DISTRICT — According to President Barack Obama, job creation is key to a full economic revival.
On a Tuesday, May 8 visit to Albany, the president said the Capital District is doing everything right to make economic success happen sooner rather than later.
"The reason I came here today is because this school and community represents the future of our economy," said Obama.
Standing under bright lights in NanoFab X, a $365 million computer chip manufacturing lab still under construction at the College of Nanoscale Science and Engineering, Obama praised the high tech work being done there and deemed it a valuable part of the nation's future progress and a model for the rest of the country.
"Right now, some of the most advanced manufacturing work in America is being done right here in our state of New York. Cutting edge businesses from all over the world are deciding to build here and hire here," said Obama.
Obama said the education, training and production that occurs at the region's nanotech hub is paramount to keeping jobs here at home instead of overseas. He said ramping up the workforce domestically is something that needs to happen for the economy to not only recover, but thrive.
"There are steps we can take as a nation to make it easier for companies to grow and to hire; to create platforms of success," said Obama. "Everything from giving more people the chance to get the right training and education to supporting new research projects in science and technology."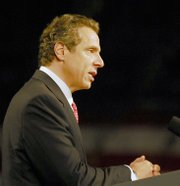 Obama joined Gov. Andrew Cuomo for a tour of the college prior to his speech. He viewed a computer chip manufacturing clean room and chatted with college scientists who showed him the tools used to make silicon chip wafers.
This is a "make or break moment for America's middle class," he said, and there's "no excuse for inaction," so he announced a to-do list for Congress and urged citizens to contact their legislators to plead for action.
(Continued on Next Page)
Prev Next
Vote on this Story by clicking on the Icon