continued — "It's about the size of a Post-It note, so every member of Congress should have time to read it," said Obama, breaking into a grin at audience laughter. "Hopefully they can check things off the list, like when Michelle gives me a list, I check it off."
No. 1 on the list, which is posted at www.whitehouse.gov for everyone to view, is to "reward American jobs and eliminate tax incentives to ship jobs overseas." Obama proposed passing legislation that gives companies a new 20 percent tax credit for the cost of moving operations back to the U.S. He said Congress should pay for the credit by eliminating tax breaks for sending business abroad, which are currently in place.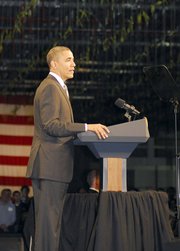 "What we need to do now is to make it easier for companies to do the right thing and one place to start is our tax rates. At the moment, companies get tax breaks for moving factories, jobs, profits overseas," said Obama. "Meanwhile, companies that choose to stay here are getting hit with one of the highest tax rates in the world and that doesn't make sense."
That to-do list goal shouldn't be hard to accomplish, he said, because thanks to advances in technology, it's actually becoming more advantageous to manufacture in the U.S.
"Now, it's getting more expensive to do business in places like China; wages are going up, shipping costs are going up, meanwhile American workers are getting more and more efficient (and) companies located here are becoming more and more competitive," said Obama.
He pointed to GlobalFoundries in Malta, the location he was originally scheduled to tour and speak at, as a shining example of attracting cutting-edge business and keeping jobs here.
"Companies like IBM, GlobalFoundries could decide to pack up and move elsewhere but chose to stay in Upstate New York because it made more sense to build here," said Obama.
Vote on this Story by clicking on the Icon