continued — "We took pictures … of the pictures of crashes and coffins and wheelchairs and just anything we could do to help out and incorporate," said Jen Senke, a digital photography student.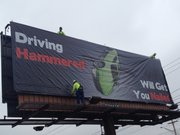 Students participated in anti-DWI activities and demonstrations, viewed images from actual crashes and heard from local people who lost a loved one to a drunk driver.
"I took away a lot, mostly to think about what you're doing and how others may react to it and definitely consider everybody's lives," said Kate Churchill, another photography student.
Himmelwright's design might have a prominent roadside home but the 19 other entries have been displayed around the high school to make an impact, too.
"Hopefully that message can expand beyond even this great billboard and pass the word that this is a choice that you make," said Justin Defazzio, who teaches the digital merchandising and design class.
Lamar Graphics paid for the cost of the billboard art, a $1,700 pricetag, and donated billboard space for four weeks, something that typically costs businesses $6,300 to rent.
"It's such an important campaign and these teens have such creative minds it was our way of giving back," said Matt Duddy, Lamar vice president and general manager.
Digital photography teacher Christine Festin said the billboard sends another message besides not to drink and drive.
"We want the community to recognize that Colonie High School does good things and this is one of them. We also want people to realize how art impacts the world and this is another attempt at doing that," said Festin.
Festin said she saw the students react on a deeper level throughout the entire project and thought they handled the sensitive subject matter well.
"They've learned a great lesson. … I think it really brought up their emotions and their emotions were important to put into this project and to see it can happen to people they know," said Festin. "It put that emotional spin on it because often teenagers think it can't happen to them and it can and we want to keep them safe."
Albany County Assistant District Attorney Mary Tanner-Richter was also on hand to commend students for taking a stand.
"We certainly want the word to get out before we have any cases coming to our courts," said Tanner-Richter.
The billboard is at the corner of Fermac Street, east of Route 155 and visible to drivers traveling westbound on Central Avenue.
Vote on this Story by clicking on the Icon