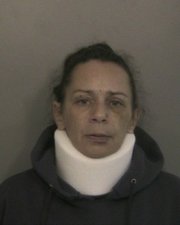 SCHODACK — State Police have charged Lisa M. Hartigan, 48, of Castleton, with vehicular manslaughter in the second degree following a crash that claimed the life of 47-year-old Darlene M. Walter, of Scotia.
Police previously charged Hartigan with DWI for allegedly being drunk and crashing the pickup she was driving into a tree on Monday, April 23. Hartigan was taken to Albany Medical Center with non-life threatening injuries, according to police, but Walter was pronounced deceased upon arrival.
Hartigan and Walter were allegedly drinking heavily in the hours preceding the incident, according to police. Hartigan was also charged with unauthorized use of a motor vehicle.
Hartigan was arraigned in the Town of Schodack Court and was released on $15,000 bail. Police said she is required to have a "sobrietor" alcohol detection device as part of the bail arrangement.
Vote on this Story by clicking on the Icon