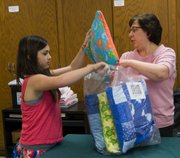 continued — "I think they see the value of it," Babin said. "Because we have the organization come and pick up the quillows they found out a little bit more on where they are going and how they are going to be used. It gives it a more personal touch."
She said it is important for students to have an opportunity to volunteer their time. Some club members are now high school seniors and stuck with the club after leaving middle school.
"They get to look beyond themselves," Babin said. "It is important for them to see beyond, that there are people that do have needs and they have a talent that can meet those needs."
It also allows her to connect with students in a different way than what can be done through a classroom setting, she said.
"I see the students in a different light," Babin said. "It is more relaxing than working with them in a class. I get to know them much better."
Abby Malone, a seventh-grader, said she enjoys doing community service and has volunteered for the Ronald McDonald House outside of the club.
Hannah List, a fellow seventh-grader, said it feels good to know kids are being comforted with the quillows she made.
There is one family from Iraq currently staying at the home. Burns said families from "all over the world" come to the home because Albany Medical Center offers specialized operations and procedures. The home is located on South Lake Avenue a short distance from Albany Medical Center.
"It is a little United Nations type of place," Burns said.
Mason Brown said he moved to the school district this year and looked into joining clubs to help make friends.
The only problem was he also is on the modified football team and it met at the same time as the club, so he would alternate going to each.
"I like helping out here, I like this club, but I have to go to football otherwise I would get kicked off the team," Brown said. "I'm planning to stay in the club next year after going into high school."
Vote on this Story by clicking on the Icon