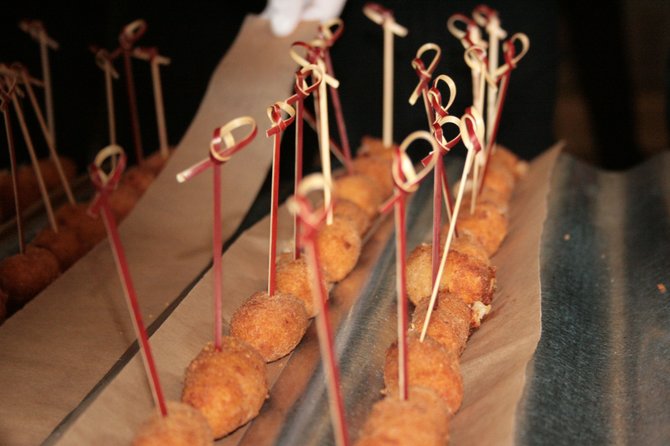 continued — Bill Gathen, an employee of Zecchini's, said, "David and Roslyn each have a passion for culinary excellence and an instinct for giving guests exactly what they want. They also bring the same level of love, creativity and excitement to everything they do and this inspires everyone in the company to not only do their best, but to perform at levels they didn't think possible."
Roslyn attributes their success to having knowledgeable staff, a good business model and most of all the support of many "regulars in a small town."
The word "tapas" is derived from Spanish, meaning "to cover," and comes from the tradition of bar patrons in Spain covering their glasses of Sherry with bread to avoid fruit flies from getting into the sweet fortified wine. Soon it wasn't only bread, but salty snacks offered by bartenders to the drinkers.
"In all reality, it's a snack in between lunch and dinner," Roslyn Zecchini said. "In Spain, people don't go out to dinner until 9:30 at night. They literally would have that late snack from 4 to 6, which would be tapas."
Usually the snack is some type of shellfish, meat, cheese or something on a skewer – all being small plates and one-bite dishes.
Boca Bistro will offer tapas as the traditional small plates and full portions as well as other entrees, salads, appetizers and desserts. The atmosphere is to be family friendly and casual. A couple of the dishes they'll be serving include patatas bravas aiolia (fried potato and chorizo with aioli) and dates filled with valdeon blue cheese.
Both Zecchinis have similar philosophies and "use as much local food as they possibly can."
"It's very much a communal thing where it's built around stories and family and there's a lot to be said about just the passion of making a dish and pleasing someone," said Roslyn Zecchini.
"Cooking isn't about the recipes, it's about passion," added David Zecchini.
For more information on Boca Bistro, visit bocabistro.com.
Vote on this Story by clicking on the Icon