NISKAYUNA — Putting on your dancing shoes might be a good idea before going to Niska-Day this year.
One of the biggest annual community celebrations in the Town of Niskayuna is set to entertain, fill bellies and even offer a glimpse into the town's water and sewer operations.
"Niska-Day is a great celebration in Niskayuna," Town Supervisor Joe Landry said. "It started out as a small event and has grown large and has grown to one of the largest events in Niskayuna."
Document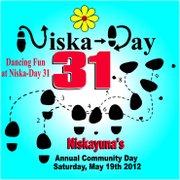 The 31st annual Niska-Day on Saturday, May 19, has a "Dancing Fun" theme that aims to have you on your feet while enjoying the event. People will be able to learn Salsa moves to the sultry music of Nuevo Mundo and later the Rock n' Roll rhythm will beat strong with Mud Bug Uprising. Throughout the day there will be several dance demonstrations from local dance studios, too.
"Not much has changed in terms of format, except for location of main activities," William Leader, co-chair of the Niska-Day Committee, said. "Why tinker with something that isn't broken? The community seems to enjoy the format of the day."
From parade to fireworks
Kicking off the event at 10 a.m. at the corner of Union Street and Cornelius Avenue is a parade with marching bands, many creative floats, fire trucks, Girls Scout and Boy Scout troops, schools groups and community organizations. See page 8 for the parade route.
Councilwoman Denise Murphy McGraw said she looks forward to walking in the parade and tossing candy into the crowd.
"My favorite part of the event is both the tossing of candy in the parade and watching the kids catch it," McGraw said. "There is an art and strategy to the candy tossing in the parade route."
During the parade there will also be people pushing grocery carts, though they aren't going to the market.
(Continued on Next Page)
Prev Next
Vote on this Story by clicking on the Icon