CAPITAL DISTRICT — A Colonie Tae Kwon Do instructor was arrested on child pornography charges Thursday, May 17, according to Colonie police.
Christopher S. Gallup, 27, of 424 Sand Creek Road Apt. 127 was charged with one count of promoting a sexual performance by a child and one count of possessing a sexual performance by a child, both felonies, after a search warrant was executed at his residence and several computers and media storage devices containing child pornography were seized, said police.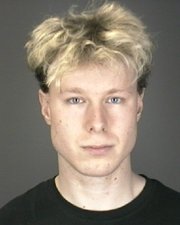 Gallup was reportedly "very active" in the Tae Kwon Do community and taught in many locations over the past few years, though he lists his employment as a café employee at Barnes and Noble in Colonie Center, said police.
Lt. Robert Winn said the police department was urging anyone who believes they or their children have had suspicious or illegal contact with the defendant to contact them.
Winn said the full scope of Gallup's child pornography involvement won't be realized until the New York State Police Computer Crimes Unit completes its examination of his computers and media storage devices, but as of now, the material viewed does not appear to show local victims.
"Right now, all the images appear to be downloaded from the Internet or overseas, not local, however the investigation is continuing and we always look to make sure there are no images he himself produced," said Winn.
Winn said additional charges are possible pending the completion of the forensic examination.
According to police, the investigation began following a tip to the New York State Police Computer Crimes Unit about Gallup posting suspected child pornography online.
Winn said Gallup's arrest and case against him is "completely separate" and unrelated to the May 3 arrest of Albany man and Colonie after school worker Brian K. Oatman-Gaitan for illegally possessing child pornography on his computer.
Gallup was arraigned in Colonie Justice Court and remanded to Albany County Correctional Facility in lieu of $20,000 bail, which police said he posted the same day.
Vote on this Story by clicking on the Icon