CAPITAL DISTRICT — Luke Donovan's childhood was, at the very least, a bit odd.
Donovan grew up living with a mentally ill grandmother, experienced relentless bullying throughout high school, started hearing voices in his head at the age of 18 and at one point contemplated suicide.
"Trying to be thankful for everything I had in my life, that helped me (get through it)," said Donovan, a 2001 graduate of Colonie Central High School.
The years of pain are why he wrote "Missing the Big Picture," an autobiography that was published at the end of March.
"It's been a goal of mine for the past 10 years," said Donovan. "It's a personal memoir and starts when I was born up until a couple years ago when I was in my mid-20s. … I thought it would be a good book to share to help people in down situations."
He said the book can be graphic as it follows his convoluted and complex life, but that honesty and candor was necessary to truly tell his story.
"The message is to show struggling young people that feel sad, depressed or suicidal that you can triumph over what is bothering you," said Donovan.
And triumph he did. Donovan said it took years of hard work but facing his childhood, adolescence and eventual independence through note taking played a part in coming to terms with himself and where he came from.
Donovan's childhood was one big obscure schedule, dictated by his grandmother.
"We could only do laundry Sundays at 7:40," said Donovan. "She revolved around time. If we were out shopping and came home at a bad time we had to wait in the car until she said it was okay for us to come in."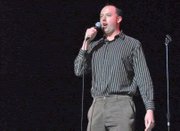 He said he thought the compulsiveness was normal and kept it to himself. When he got older, though, Donovan said he began to gain perspective on his home life, and it affected him.
(Continued on Next Page)
Prev Next
Vote on this Story by clicking on the Icon