BETHLEHEM — "How many of you think this is made out of old soda bottles and milk jugs?" asked Debbie Jackson, a state Department of Environmental Conservation employee, to a small group of elementary children.
Jackson was holding up a polyester T-shirt for the students to see while teaching them about the importance of recycling. None of the children believed the cloth before them had once been plastic reused to create something they wear everyday.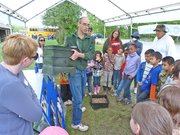 Each year since 1995, groups of elementary students from schools throughout the Capital District have been brought to the Five Rivers Environmental Education Center in Delmar to participate in a conservation field day. The entire program is three days long and about 600 students attend the event over that time.
"We have about 14 field stations and they are led by bona fide field experts," said Five Rivers Executive Director Craig Thompson. "These are the people who fight the forest fires, who remediate oil spills, who monitor air and water quality (for the state). The kids are going to these stations and learning right from them."
Thompson said the event provides a great opportunity to showcase the state's environmental and resource conservation programs with students and educators. Schools apply annually to participate in the free event and some are turned away because of its popularity.
The program is a combination of career exploration and educational opportunity.
John Sheppard, an environmental program specialist with the DEC, taught students about air quality and how to help preserve it. The groups were taught the definition of air pollution and where it comes from, with demonstrations and free trading cards representing air pollution's "dirty dozen" offenders.
The characters each represent a dangerous pollutant and have names like Druscilla de Spilla for the human carcinogen benzene, or H.G. "Slick" Grey for the toxic metal mercury. Each card describes the pollutant, why it is dangerous and how it can be released into the environment.
(Continued on Next Page)
Prev Next
Vote on this Story by clicking on the Icon