GLENVILLE — Tony Cervati, 44, of North Carolina, on Friday, May 11, spoke to students at Glendaal Elementary School about his experience with type 1 diabetes.
A North Carolina man helped put a face to diabetes for local elementary students while inspiring them to achieve their goals and never give up.
The Scotia-Glenville Central School District welcomed Tony Cervati, a professional mountain bike rider, on Friday, May 11, to share his experiences with type 1 diabetes. Cervati spoke at Glendaal Elementary School, but the district live streamed the talk to the other three elementary schools in the district.
After Cervati's talk, students at the four elementary schools all walked at their respective schools at the same time. Students across all the district's schools raised funds for the Juvenile Diabetes Research Foundation's Kids Walk to Cure Diabetes, which led the students to participate in the nationwide walk.
Betsy Williams, a nurse at Glendaal and a coordinator of the event, said she got the idea to hold the fundraiser after doing a Juvenile Diabetes Research Foundation walk a few years ago.
"I felt it was time to raise awareness again with our students and our staff members," she said. "It is a great cause to help support the student and staff that have diabetes themselves or in their lives."
Williams said there are two students at Glendaal with diabetes and she has seen a total of six different students in the school with the disease. Williams also has type 2 diabetes.
"I like to encourage and show the kids that they can really do anything they want even though they have challenges … not only with diabetes but other disease processes as well," Williams said. "The other part of my message is health and wellness and making sure everybody is making healthy choices."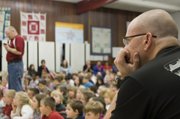 (Continued on Next Page)
Prev Next
Vote on this Story by clicking on the Icon