continued — He said he remembers when he was young and he just wants to do something to help kids that might have a lot of questions or fears around the disease. He said the idea behind it "is worth it" to him.
"If I can explain where I have been and the things I have tried to do and what works and what doesn't work and it helps even to just take the pressure off … that is just kind of what they need to hear," he said.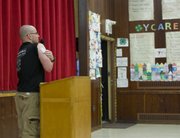 The elementary students were also younger than his typical audience, he said, so he tries to share diabetes information without "hanging on it" to keep students engaged.
Type 1 diabetes, previously known as juvenile diabetes, is when a person's body does not produce insulin. Insulin is needed to convert sugar, starches and other food into energy the body needs. Only 5 percent of people with diabetes have this form, according to the American Diabetes Association.
Type 2 diabetes is the most common form of the disease, which is when the body doesn't produce insulin or the cells ignore insulin that's produced. A total of 25.8 million people in the country, or around 8.3 percent, have diabetes, according to the ADA.
Cervati was diagnosed with type 1 diabetes at 8 years old and since then he has tested his blood glucose over 80,000 times, along with taking almost 52,000 injections before starting pump therapy.
A lot has changed in the technology used to treat diabetes, he said. When he was first diagnosed there weren't glucose meters so he would have to do urine samples that gave ranges of glucose levels.
"It was just a way different era," he said.
One problem though, he said, is how expensive the disease can be to treat.
"You have this disease that costs a boat load of money … and the best thing you can is exercise, eat better and try to find funding for a cure or better treatment," he said. "It is a very complex problem and there is no quick (solution)."
Diabetes was estimated to cost the country $174 billion in 2007, according to the ADA, and $116 billion of the total is from direct medical costs with the remaining $58 billion stemming from indirect costs, such as disability, work loss or premature mortality.
Vote on this Story by clicking on the Icon