Photo Gallery
Niska-Day 31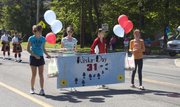 The 31st annual Niska-Day on Saturday, May 19, in Niskayuna started off with an lively parade and then transitioned to the fairgrounds where there was rides, food and entertainment.
NISKAYUNA — Town pride shined during the sunny 31st annual Niska-Day on Saturday, May 19, as its parade kicked-off the celebration stretching past sunset.
Shortly after 10 a.m. on Saturday, the parade signaled the start to the daylong event. The streets were lined with people taking in the sights and sounds of marching bands, fire trucks, police vehicles, school pride, Boys and Girls Scouts, service members and an array of community organizations and businesses. Also, a 45-foot tall Cookie Monster float captivated children as it floated by with several people guiding the beloved character.
Once the streets were clear, people made their way to the fairgrounds holding a variety of attractions. Food vendors kept people's stomachs full and carnival provided thrills for young and old. Also, there were a variety of performances tied to the "Dancing Fun" theme of this year's event. Community organizations and businesses helping support the event were featured, too.
Check out our photo gallery linked in this story and also visit The Spotlight on Facebook (www.facebook.com/spotlight.newspapers) to view even more photos.
Vote on this Story by clicking on the Icon