BETHLEHEM — The Bethlehem community once again paid tribute to those who paid the ultimate sacrifice in defending our country with a parade and memorial service put on by the Nathaniel Blanchard American Legion Post 1040.
Photo Gallery
Bethlehem Memorial Day 2012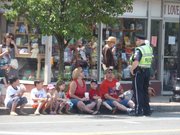 The town of Bethlehem commemorates its fallen heroes on Monday, May 28.
On Monday, May 28, dozens of community organizations, service groups and veterans organizations paid their respects by marching in the 2012 Bethlehem Memorial Day Parade. The special commemoration ended with a memorial service held at the town's Veterans Memorial Park.
Steve Riedel, commander of the Blanchard Post, hosted the day's events.
"We are here in observance of Memorial Day, which falls of the last Monday of May and commemorates the men and women who died while serving in the American military," he said.
Riedel explained how Memorial Day was once called Decoration Day as a way to honor those who died during the Civil War. It became a federal holiday honoring all of the country's soldiers who died in service in 1971.
Veteran Al Hofacker acted as the parade's grand marshal, with Town Supervisor John Clarkson serving as honorary grand marshal.
Barry Bedrosian, of the Sons of the American Legion, said for the second year in a row, a program booklet was produced for the event through the help of local businesses. Last year's contributions of $3,000 went toward veterans activities at the Albany VA Hospital. It also helped sponsor an Honor Flight to take local World War II veterans to see their memorial in Washington, D.C.
This year nearly $4,000 was raised and will assist veterans in need.
The parade honored Master Chief Thomas DeRouville, a retired member of the U.S. Navy and former commander of the VFW Post 3185 in Delmar, as well as Bethlehem Central student Hannah VanWie, who helped bring the Pledge of Allegiance back into the morning routine at the high school.
Reidel ended with a poem written in 2005 by Charles M. Province, a veteran of the U.S. Army.
"It is the soldier who salutes the flag, who serves beneath the flag, and whose coffin is draped by the flag, who allows the protester to burn the flag," he said.
Vote on this Story by clicking on the Icon