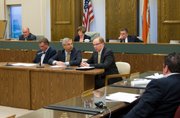 continued — Gordon said he doesn't "have the ability put a dollar sign" on the value of the home to the community.
Vellano, who caucuses with the Democrats, expressed reservations on the project and said it would be a burden on taxpayers. She said the county has no control over Medicaid reimbursement rates.
"That liability will fall on the shoulders of our taxpayers," she said. "We have been using our reserves for many years. How many years into the future can we utilize our reserves to fill in the hole for the expenses of the nursing home?"
Martin Finn, D-Niskayuna, said he also struggled with issue for many years. Finn said he was concerned about the potential cost to taxpayers, especially with possible cuts to Medicaid funding.
"Ultimately, for me, it comes down to I think we can't afford not to do this," Finn said. "There is just a group of people that they don't get the need filled by private nursing homes. They need this facility."
Glendale Subcommittee Co-Chairwoman Karen Johnson, D-Schenectady, said the county has always worked on having a continuum of care. She said the county does work with agencies to keep people in their homes if going into a nursing home can be avoided.
She also said there is value in keeping residents in the community instead of having families separated from each other because there isn't a lower cost, county-run option.
"I look at this as allowing Schenectady people to stay with their families," Johnson said. "We're already at work at getting the cost of this nursing home down."
Majority Leader Gary Hughes, D-Schenectady, said Medicaid would reimburse 85 percent of the project cost and a 30-year bond would cover the remaining 15 percent. He said the county's portion would be covered through increasing the private pay rate closer to market value and the facility would be more efficient.
Vote on this Story by clicking on the Icon