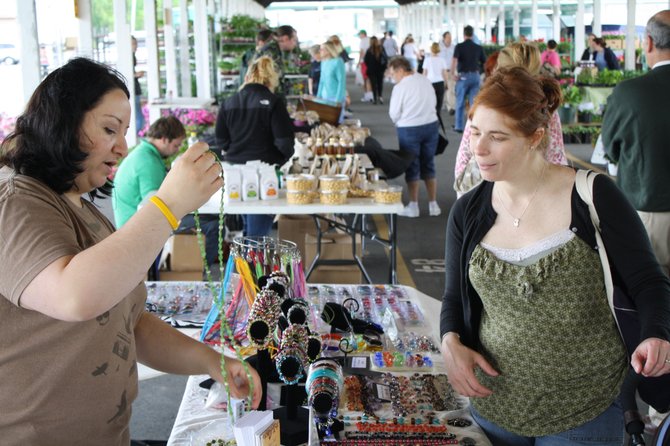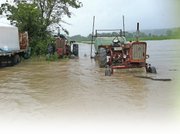 continued — "We're in a tough stage right now," said Webb. "I did have some insurance but it only paid about 8 cents on a dollar."
Still, Webb said this year's crops are doing well. His first day at the market will be Thursday, June 7, and the offerings will vary throughout the summer.
"I'll have strawberries, blueberries, raspberries, sweet corn, peppers, tomatoes, summer squash, winter squash, eggplant, zucchini, cucumber," said Webb.
He'll also have flowers and hanging baskets and when it gets closer to the market's closing day of Oct. 4, Webb will have pumpkins and gourds.
The CDPHP Farmers' Market is open Thursdays from 11:30 a.m. to 1:30 p.m.
Over in Menands, the Capital District Farmers Market at 381 Broadway has been going strong since its traditional opening on the first Saturday of May (this year it was May 5).
"It's been really good. We've done 400 to 500 cars each week," said spokesperson Erin Landers.
The retail market is open Saturdays from 9 a.m. to 1 p.m. and the wholesale market that sells in bulk directly to retailers, local restaurants or other consumers runs Monday, Wednesday and Friday mornings.
Regular wholesalers include A.J. Rinella, Black Horse Produce, D. Brickman, Decker's Produce, Pray's Farmers Market and others. The retail market has a more diverse array of items, from fresh produce to prepared goods.
"We try to get a little bit of everything," said Landers. "Our farmers are a given but we have a jewelry person, try to have a wine person, meat and cheese."
New this year is a vendor offering vegan products and Amici Vineyard, located in southern Washington County.
The Capital District Farmers' Market is also known for its special events. It kicked off with a community garage sale May 5 and the next one on June 23 will be Battle of the Berries, followed by Corny Day on July 28, Spotlight Newspapers' Family Day on Aug. 11, Tomatoes by the Thousand on Aug. 18, Fall Harvest on Sept. 15 and Days of the Jack-O-Lantern on Oct. 13.
Vote on this Story by clicking on the Icon