BETHLEHEM — Much in the same vein as his 2010 debut novel "Stash," local author David Klein said his newest book is about relationships and what happens when people are inadvertently brought together after unexpected life events.
"Clean Break" follows Celeste Vanek, a wife and mother who Klein describes as "making one of the most difficult choices in her life." The book opens with her and her 9-year-old moving out of the suburban home they lived in for nearly a decade as she finally decides to leave her gambling husband.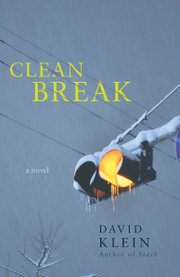 "The title is about the characters trying to shed their past and get a handle on a new life, a better life," he said. "That's not always easy. It can be hard to lose the past and move on. They're all looking to make something different in their lives."
According to Klein, his newest book is a stand alone novel with no thread connecting his first book, but there are similarities. Each features the types of "hidden secrets" that can be found in suburban living, as well as wives attempting to overcome the issues associated with an addict husband.
The book highlights the struggles of four characters whose lives eventually are woven together through a series of choices.
As Jake Atwood enters Celeste's life as a friend helping her to escape a sometimes violent relationship with her husband, he must deal with his own personal issues with his married girlfriend Sara. Klein said although Jake isn't the book's main character, the inspiration to write "Clean Break" began with him.
"He is essentially alone in the world even though he is successful in his career," he said. "(Jake) has no real human connection other than colleagues. I thought, what happens when someone is forced to make a personal connection and when he does so, disrupts other people's lives?"
(Continued on Next Page)
Prev Next
Vote on this Story by clicking on the Icon