The Colonie Police Department is asking for the public's help in solving a fatal hit and run accident on Central Avenue that killed a 57-year-old man last week.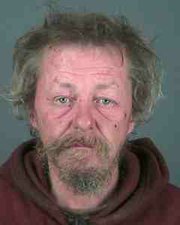 Randall Hayes was found in the curb lane of Central Avenue (eastbound) with head and chest trauma, injuries police said are consistent with being run over by a vehicle but not necessarily having been struck. The accident occurred at 9:05 p.m. Monday, May 21, in front of 1860 Central Ave.
Police said they have not located the hit and run vehicle or any witnesses with new information and hope the release of a victim photo and a surveillance image of a potential witness might jog people's memories.
Police said they have no information about Hayes' actions prior to the accident or how he possibly ended up lying in the road before the accident.
Police are looking for a man captured in surveillance video about five minutes prior to the accident that they believe could be a possible witness, as he was walking on the eastbound sidewalk. The possible witness is described as a white male in his mid 20s to 30s, about 6 feet tall, medium build and wearing a white long sleeve button up shirt, blue jeans and a dark colored watch on his left wrist.
Police are also still seeking a small blue car and a grey Honda minivan in connection to the accident, though police said they're not yet sure if the vehicles were involved or just in the area at the time of the accident.
Police said "information may be held by people that the operator spoke to about striking something on that night or by a mechanic asked to perform service on the run vehicle."
Anyone with information is urged to contact the Colonie Police Department at 783-2744.

Vote on this Story by clicking on the Icon