BETHLEHEM — Candidates running for an open seat on the Bethlehem Town Board expressed different opinions about the state of affairs in town at a recent forum.
On Thursday, Nov. 1, Democratic candidate Bill Reinhardt and Republican candidate Jeremy Martelle met to answer questions from audience members at a forum sponsored by the Albany County League of Women Voters and Spotlight Newspapers held at Bethlehem Town Hall.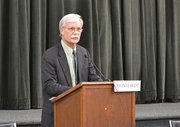 Former Supervisor Jack Cunningham is also appearing on the Independence line but he declined to take part in the forum, after narrowly losing to Reinhardt in a Democratic primary and suspending his campaign.
Reinhardt and Martelle are vying for a seat that will soon be left vacated by Town Board appointee George Lenhardt at the end of the year. Both men framed the race as important to the future of town government. A win for Martelle would put a Republican on the board for the first time in years and a Reinhardt victory would add a "Reform Democrat" to the entity shortly after the dominant party was shaken up during primary season.
The 2013 town budget was a major concern for many in the audience, who were allowed to submit questions in written form. Both candidates were asked if they support Supervisor John Clarkson's preliminary spending plan.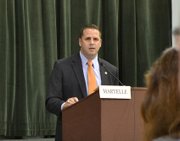 Reinhardt said he backs the plan and believes the current administration is responsibly cutting costs while balancing a tax increase. Martelle disagreed. He said an 8 percent tax increase is far too high, and missteps were taken by not planning earlier for the loss of the Selkirk Cogen Payment in Lieu of Taxes agreement. He also criticized tax abatements given to retail projects like ShopRite in the Vista Technology campus.
"A one-party rule for the past decade has led to the situation we are in," said Martelle, who pointed to increased fund balance usage in recent years.
(Continued on Next Page)
Prev Next
Vote on this Story by clicking on the Icon