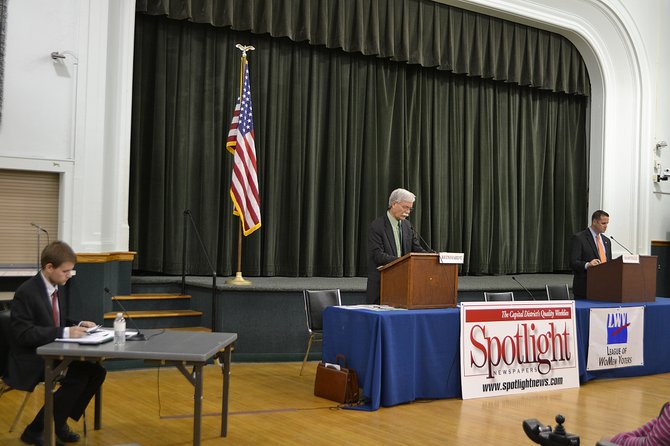 continued — Reinhardt countered that the Republican Party had been in power in the town for more than 100 years, and the Democrats are now taking their turn. He said it's time to not look at the mistakes of the past, but what is happening in the present, such as the creation of a capital spending plan.
Martelle argued the proposed budget cuts services that "make Bethlehem a great place to live." He did feel the town should no longer support the school district's D.A.R.E program or resource officers on the Bethlehem Central High School campus.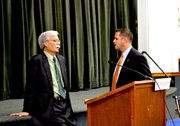 "Given the current fiscal situation, those officers should be removed from the schools and moved back into the police force to patrol the streets," he said.
Reinhardt said the proposed budget will work to minimize future costs without harming town services, but the town will rely on greater efficiency from staff members. He also said more research on impacts should be done before resource officers are removed from the district.
Both candidates said they would use their previous work experience as a member of the Town Board.
Martelle works in the private sector as a senior aviation planner and project manager for an engineering firm in Albany, and is a veteran of the Air Force. He also serves on the Bethlehem Library Board. Reinhardt is retired and previously worked in the public sector with the New York State Energy Research and Development Authority.
Reinhardt said if elected, he would work with both parties in a nonpartisan matter for the good of the town and its employees.
"If I think something is wrong, I will say so," he said. "In the case of Supervisor Clarkson, I already have. He was starting to float the idea of closing the compost facility and I said 'I will not support that.'"
Martelle and Reinhardt both agreed the town is doing a good job in releasing information to residents via the town website and that zoning regulations in town are hampering the growth of small business.
"Small business is essential for the growth of local communities," said Reinhardt, adding that if elected he plans to hold a meeting with small business leaders to see what changes should be made.
This year's election falls on Tuesday, Nov. 6.
Vote on this Story by clicking on the Icon