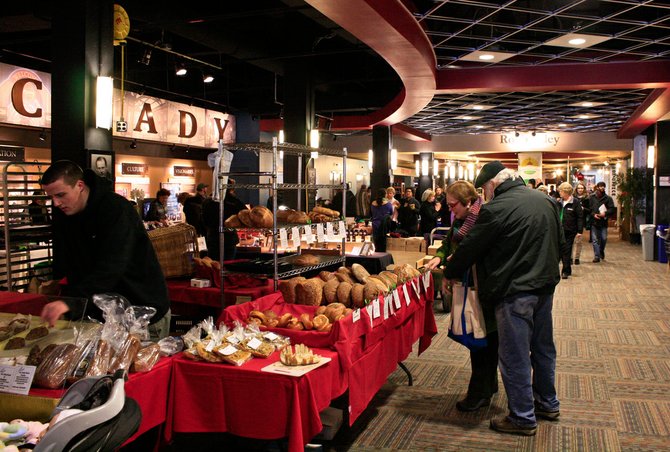 SCHENECTADY — Winter's chill forces the Schenectady Greenmarket indoors every year, but patrons will find more offerings in a larger space this season.
The Schenectady Greenmarket returned to its traditional indoor locations on Sunday, Nov. 4, at Robb Alley and the downstairs Education Center at Proctors, but shoppers were able to enjoy prepared food offerings in Key Hall across from the Arcade. The expansion offers better seating and a wider range of dining options. The larger space will also allow for more community events and cooking demonstrations.
Greenmarket Board of Directors Chairwoman Betsy Henry said the move was spurred when Proctors decided to build a print shop in the lower level, which reduced the amount of space available for vendors. Prepared foods used to be offered on that downstairs level along with other vendors selling market items. The shuffle ended up being a boon, with the new space expanding a popular aspect of the market, Henry said.
"Key Hall is an absolutely gorgeous space where we'll have plenty of room for our prepared food vendors, and plenty of seating so customers can enjoy music and a meal," Henry said in a statement.
The style of prepared foods offered include Eastern European, Cajun, Caribbean, Peruvian, Moroccan and Vietnamese cuisine, along with paninis and coffee. The space opened up room for a few more vendors, so Henry said some vendors that could only be at the market every other week or month can now appear more regularly.
The cooking demonstrations are another important aspect of the market, too.
"Part of our mission at the market is to have education … educating the public about good food and local food and a local expert table," Henry said.
Key Hall will add a new atmosphere to the dinning. Henry said the space feels much more cozy and will be nice during the cold winter months.
(Continued on Next Page)
Prev Next
Vote on this Story by clicking on the Icon