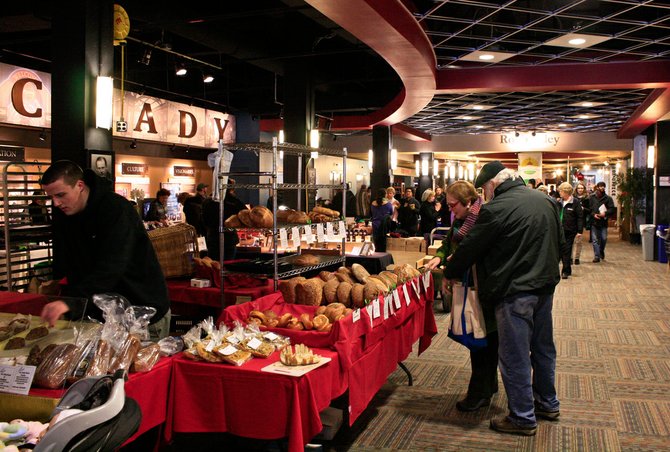 continued — This winter, the Greenmarket hosts 73 vendors selling vegetables, herbs, fruits, nuts, dairy, meat, poultry, eggs, baked goods, confectionery items, processed foods, wine, honey, syrup, crafts and gifts. A new vendor this season is Pura Vida Fisheries, which offers wild-caught, fresh New York State seafood.
The opening of the indoor market coincided with its fourth anniversary, with performers helping kick it off on Nov. 4. Running the River, a four-piece band playing a mixture of county, rock, folk and other genres performed on the main market stage in Robb Alley. Rick Sacchetti also played Americana tunes from noon to 2 p.m. in the Education Center.
Henry said the hope is to have musicians performing at three areas within the market. To view the calendar of events at the Greenmarket, visit www.schenectadygreenmarket.org.
Henry said the market has been going strong for four years and it only seems to continue to grow.
"I think it is far exceeding our expectations," she said. "We have a really loyal customer base and at the same time we have people that show up everyday Sunday and say, 'Wow, we have not been down here before.'"
Henry stressed there continues to be a good amount of fresh produce through the winter. The Greenmarket actually spurred some vendors to grow new produce items since it has a reliable winter customer base, she said.
"There will be plenty of produce," she said. "We will have greens all the way into December."
The Schenectady Greenmarket will be indoors from November through April and is held Every Sunday from 10 a.m. to 2 p.m.
Vote on this Story by clicking on the Icon